Town Parks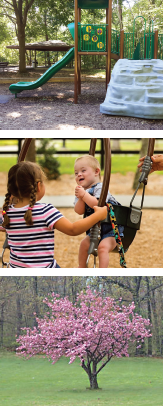 Herb Reisman Sports Complex
Little League field, baseball/softball field, soccer/football field, sand volleyball courts,
two basketball courts, paved walking path, picnic pavilion, and restrooms;
fields illuminated for night use. Permit required for fields & volleyball courts.
920 Route 45, Pomona, NY 10970
Directions: Route 45 North past Rockland County Health Complex
Eugene Levy Memorial Park
Children's playground, two handball courts, exercise trail, paths for jogging and walking,
and bathrooms.
920 Route 45, Pomona, NY 10970
Directions: Route 45 North past Rockland County Health Complex
Willow Tree Park
Pond for fishing, walking and jogging path. Group use is not permitted; no restrooms.
121 Willow Tree Road, Wesley Hills, NY 10952
Directions: Route 306, turn west on Willow Tree Road
Orchard Hills Park
Playground, two tennis courts, handball courts, ball field.
Permit required to use fields.
Pilgrim Lane, Monsey, NY 10952
Directions: Forshay Road to Orchard Hills Drive, then left on Pilgrim Lane
Manny Weldler Park
Eight tennis courts, eight pickleball courts, four handball courts, four ball fields, children's playground,
bathrooms, walking and jogging paths.
Permit required to use fields.
148 West Maple Avenue, Monsey, NY 10952
Directions: Route 306 then west on Maple Avenue
Clark Center
Four Hard tennis courts; 2 lined for pickleball, picnic tables, children's playground,
dog park, accessible bathrooms, basketball court.
59 Campbell Avenue, Suffern, NY 10901
Directions: At the corner of Campbell Avenue and Cragmere Road
Fredrick J. Rella Little League Fields
Three ball fields, restrooms. Permit required to use fields.
25 Annette Lane, Tallman, NY 10982
Directions: Cherry Lane to Annette Lane
Children's Park
Four handball courts, ball field, playground, bathrooms, pond, paths for jogging, walking and biking,
basketball court (Tennis courts not open). Permit required to use field.
60 Grotke Road, Spring Valley, NY 10977
Directions: East on Grotke Road from Pascack Road
Harry Reiss Park
Walking path and Nature Play Trail for children.
Blauvelt Road, Monsey, NY 10952
Directions: West Maple Avenue to Carlton Road and right on Blauvelt Road
Bon-Aire Park
Children's playground, two tennis courts, basketball courts and bocce courts.
Campbell Avenue and Bon-Aire Circle, Suffern, NY 10901
Directions: Route 59 to Campbell Ave. and right onto Bon Air Circle and right onto Bon Air West
Pocket Parks
*
Situated throughout Ramapo, these small neighborhood parks provide a convenient outdoor recreation option to nearby residents.
*Group use not permitted

Dawn Lane: Nature area.
Lorna Lane: Basketball court, children's playground.
Sandy Brook: New children's playground
Besen Park: Ball field, basketball court, playground.
Capital Park: Nature Area.
Adar Court: Children's playground.
Elm Street: Children's playground.
Park Rules
No fires or portable grills allowed in any park!
Dogs must be on leashes at all times and owners
are responsible for picking up after their dogs.
Paths are for use of pedestrians and bicyclists only — and only when parks are open.
Do not litter. Place an trash in appropriate containers.
Do not damage or deface park property.
Do not injure or remove vegetation.
No firearms are permitted, and no hunting or trapping.
No alcoholic beverages.
All children's parks and playgrounds are smoke free.
No skating or sledding.
Fields and facilities require fees, permits and / or insurance prior to use. Please call 357-6100 for information.
Groups are required to obtain a permit prior to any park usage.

Thank you for your cooperation!